What if you slept
And what if
In your sleep
You dreamed
And what if
In your dream
You went to heaven
And there plucked a strange and beautiful flower
And what if
When you awoke
You had that flower in you hand
Ah, what then?

S.T. Coleridge
-

EINE HANDVOLL SCHLAFKORN

A single frame contains two photographs—one old, the other contemporary. The old one, above, shows an Egyptian fresco of workers in the fields. The contemporary one, below, shows clasped hands filled with rock crystals. There are some grains of wheat at the bottom of the frame.
These three elements can be read from top to bottom. They bear a relationship of cause and effect, suggesting that images have life and that gestures have consequences: wheat scattered freely in a field 3,000 years ago was captured for the first time by an Egyptian fresco painter, then a second time by a photographer, before finally falling back, in part, into my hands, where it was transformed into quartz. A precipitate has been created, and it is as though the material's passage through reality had been crystallized. The title, from Paul Celan, refers to the "wheat grains of sleep"
— the wheat of mythology, or of dreams, that transforms itself as soon as it is touched.

19th century albumen print, Epson Archival print, wheat seeds, frame.
50 x 40 cm.

Et si vous dormiez ?
Et si
dans votre sommeil
vous rêviez ?
Et si,
dans votre rêve,
vous alliez au ciel
cueillir une fleur aussi belle qu'étrange ?
Et si,
à votre réveil,
vous teniez la fleur à la main ?
Ah, que diriez-vous ?

S.T. Coleridge
-

EINE HANDVOLL SCHLAFKORN

Deux photographies, l'une ancienne l'autre contemporaine, sont placées l'une au-dessus de l'autre dans un cadre: une fresque égyptienne où est représenté un épisode des travaux des champs, surplombe des mains jointes, remplies de cristaux de roche. Au bas du cadre, des grains de blé.
Ces trois éléments se lisent de haut en bas, liés par une relation de cause à effet qui propose que les images ont une vie, et que les gestes ont des conséquences: du blé jeté en cascade dans un champ il y a 3000 ans, figé une première fois dans sa course par le fresquiste égyptien puis une deuxième par le photographe, est finalement retombé en partie dans mes mains, où il s'est transformé en quartz —comme si le passage dans la réalité l'avait cristallisé en créant ce précipité. Le titre, quelques mots de Paul Celan, fait référence à des « grains de blé de sommeil », blé mythologique, ou de rêve, qui se transforme dès qu'on le touche.

Tirage albuminé du XIXe siècle, impression Epson Archival, grains de blé, encadrement.
50 x 40 cm.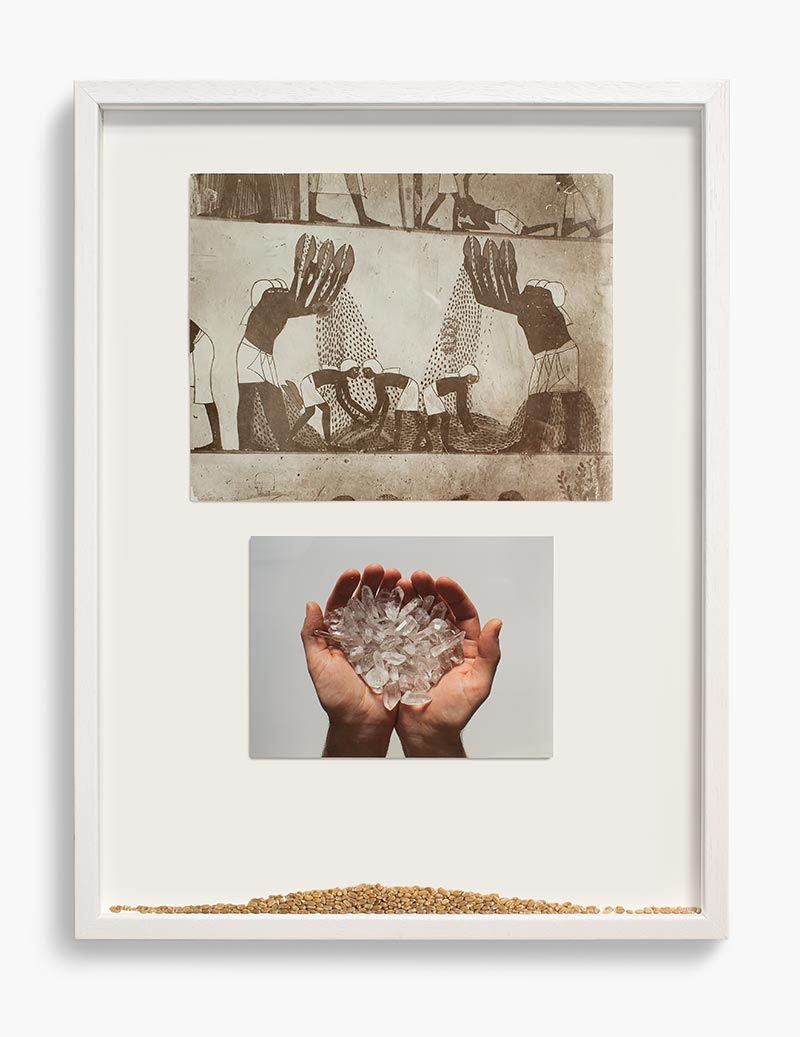 The man hopes, then dreams.

J-L Borges
, Relics
-

RELICS

A 19th century stereoscopic photo of the gates of the Temple of Philae (Egypt), stands alongside a page taken from the last work of Jorge Luis Borges.
The poem, "Relics" describes a man who is remembering an evening he spent with a woman "from the other side of a hotel gate." If everything is eventually led to repeat itself indefinitely, then beyond the boundaries of time one love is equal to all other loves, and one door is equal to all other doors.

19th century albumen print, page 94 from J-L. Borges' last book of poems (Le Chiffre / Les Conjurés, Gallimard 1988).
40 x 30 cm.
L'homme espère, puis rêve.

J-L Borges
, Vestiges
-

VESTIGES

Une photographie stéréoscopique de la porte du temple de Philæ (Égypte), prise au XIXe siècle, côtoie une page découpée dans le dernier ouvrage de J-L Borges.
Le poème intitulé «Vestiges» décrit un homme se souvenant d'une soirée passée avec une femme «de l'autre côté d'une porte d'hôtel». Si tout est amené à se répéter indéfiniment, alors par-delà les siècles un amour égale tous les amours, et une porte égale toutes les portes.

Tirage albuminé du XIXe, page 94 du dernier livre de poèmes de J-L. Borges (Le Chiffre / Les Conjurés, Gallimard 1988).
40 x 30 cm.