Follow my lead, fellow aviators;
deep in the abyss, I have lodged the semaphores of Supremacism.
Voguez à ma suite, camarades aviateurs;
dans l'abîme j'ai établi les sémaphores du Suprématisme.
(Kazimir Malevitch)
-
These three pieces, presented together in the Fétiche exhibition,
propose a radical reading of the relationship between fetish, tar and desire, all three of which are endowed with powers of attraction, of absorption, and, ultimately, of annihilation.

- A copy of
France-Soir from July 22nd, 1969
, was partially drenched in tar. It was then removed, but the mark of this action has remained. A connection has been created between tar and the Moon: the power of attraction, from which one must, one day, find liberation.

-
A thermal protective "tile" from the interior of the nose of the soviet spaceship BURAN
has been hung in the upper angle facing the entryway. Through the correspondence between Malevich's painting and the way it is hung (typical of the way icons are hung in interior spaces), I wanted to present a black square of my own.

-
A mirror was covered in tar
. This was motivated, through an oblique line of reasoning, by an awareness of the substance's exceptional preservative properties: if tar perfectly preserves whatever it covers, wouldn't the act of applying it to the mirror be enough to ensure the perfect preservation of my own reflected image? Once this has been done, the image and its light are obscured but a reflection strangely remains.
Avec ces trois pièces, présentées ensemble dans l'exposition Fétiche, est proposée est lecture plus radicale du rapport entre fétiche, bitume et désir, à travers leur commun pouvoir d'attraction, d'absorption, voire d'anéantissement.

-
Un exemplaire de France-Soir du 22 juillet 1969 a été plongé en partie dans un bain de bitume.
Il en a été ensuite retiré, mais subsiste la marque de cette action. Un lien est créé entre bitume et Lune: le pouvoir d'attraction —dont il faut, un jour, pouvoir se libérer.

-
Une "tuile" de protection thermique de l'intérieur du nez de la navette spatiale soviétique BURAN
a été accrochée dans l'angle supérieur face à la porte d'entrée. En correspondance avec le tableau de Malevitch et son accrochage (celui, traditionnel, des icônes dans les intérieurs),
j'ai voulu proposer mon propre carré noir.

- Produit d'un raisonnement oblique né de la faculté exceptionnelle de conservation de cette substance,
un miroir a été enduit de bitume
. En effet, comme il conserve parfaitement ce qu'il recouvre, ne suffit-il pas de l'appliquer sur le miroir afin qu'il garde parfaitement la trace de mon image ? Ce faisant, l'image et sa lumière sont obscurcies mais une réflexion demeure, étrange.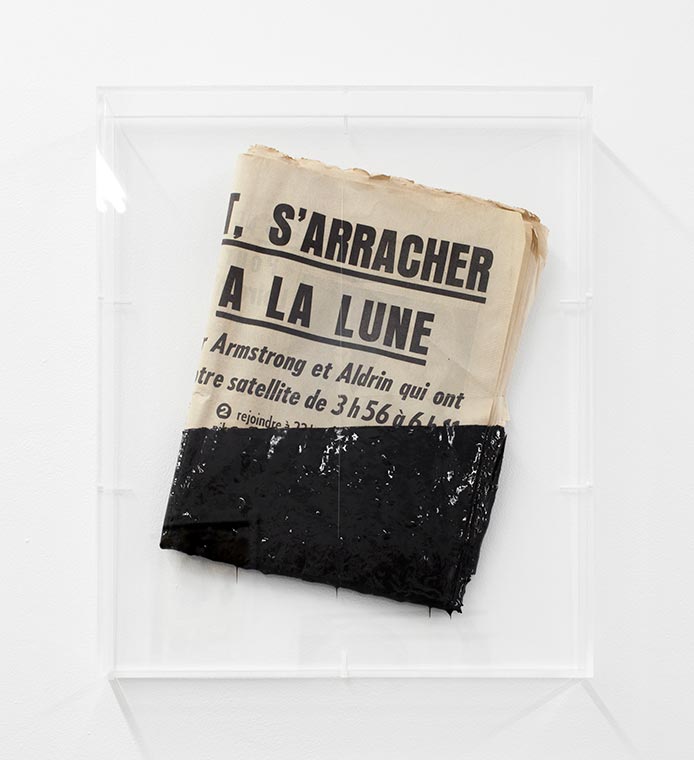 bitume sur papier (France Soir: 22 juillet 1969) • 31 x 24 cm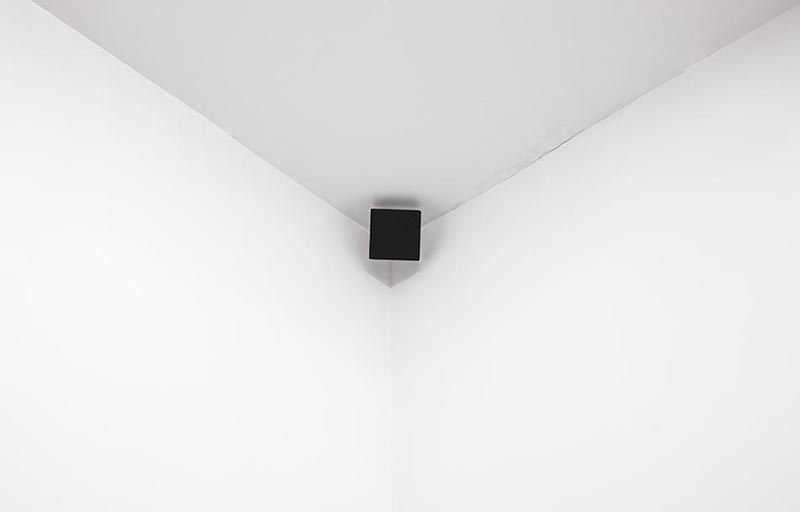 Carré noir • tuile de protection: thermique spatiale • 15 x 15 x 6 cm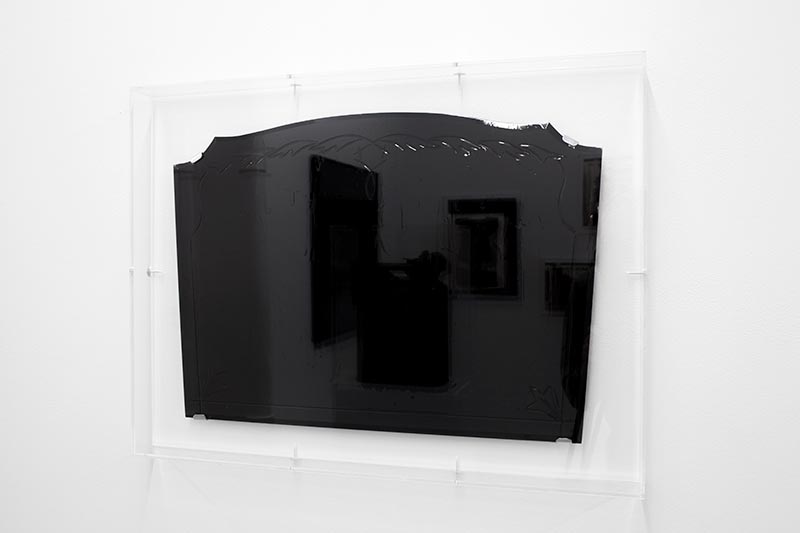 Miroir noir • bitume sur miroir: ancien • 59 x 42 cm