This group of paintings is characterized by the use of gasoline and tar in lieu of traditional bonding agents and pigments.
Since it is an excellent preservative, tar can be used for the symbolic preservation of significant moments from the past. This series completes a project initiated in 2010. It concerns images of progress that, beginning in the year 1945, Americans transmitted to Europe. (cf.
Carbon Copies
)

Tar is a black, molasses-like substance, based on petrol. Widely used in antiquity, especially by the Egyptians in the production of natron (a liquid injected intravenously during the mummification process), its principal uses today are in the public construction of roads and the industrial creation of waterproof sites. The mere evocation of this imagery, though, recalls quite a different image, namely the oil slick, something that has come to represent industry in its very worst form.
I like this ambivalence: to paint what is to be conserved, protected, and kept, and use a highly toxic substance to do so.

see also
Our century
and
Fetischismus
Cet ensemble de peintures est marqué par l'utilisation de l'essence et du bitume en remplacement des traditionnels liants et pigments.
Excellent conservateur, le bitume permet ainsi de façon symbolique de préserver des images de moments privilégiés du passé. Cette série-ci complète un travail initié en 2010, sur l'imagerie du progrès véhiculée par les américains en Europe à partir de 1945. (cf.
Carbon Copies
)

Le bitume est une substance noire, de type mélasse, issue du pétrole. Très utilisé dans l'Antiquité, notamment par les égyptiens dans l'élaboration du natron (liquide injecté dans les veines lors du processus de momification), il est utilisé aujourd'hui principalement par les travaux publics dans la réalisation de routes ainsi que par l'industrie pour ses propriétés imperméabilisantes. Cependant, sa simple évocation en appelle une autre, celle de la marée noire; par extension, il incarne ainsi l'industrie dans ses pires aspects. J'aime cette ambivalence: peindre ce qu'on voudrait conserver, protéger et garder, en usant d'un matériau à la toxicité néfaste.



voir Our century et Fetischismus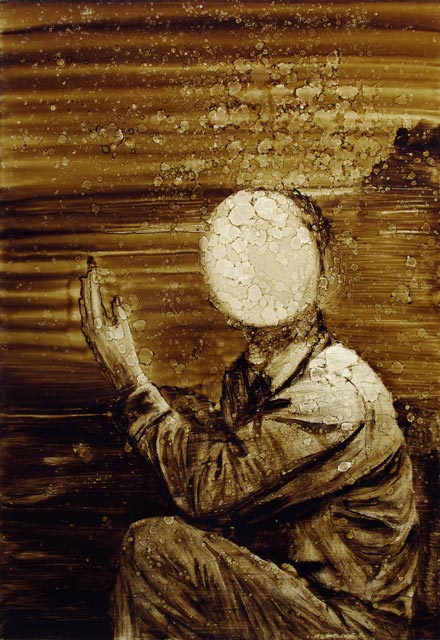 Drift • bitume et essence sur papier • 22 x 32 cm (2013)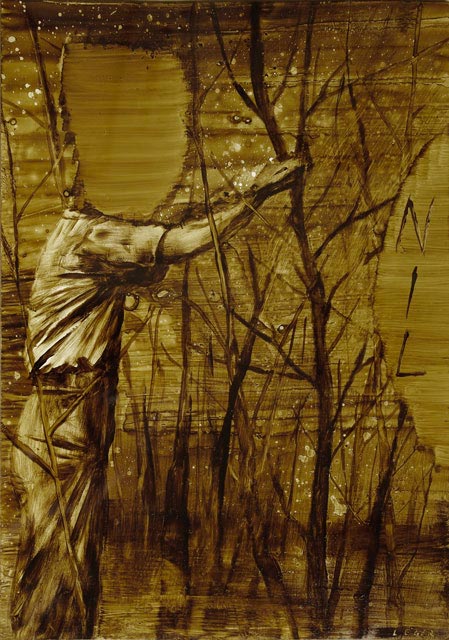 NIL • bitume et essence sur papier • 22 x 32 cm (2013)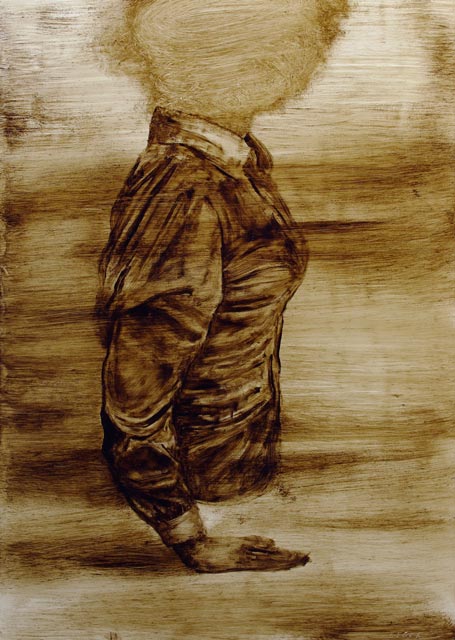 Attente • bitume et essence sur papier • 25 x 35 cm (2013)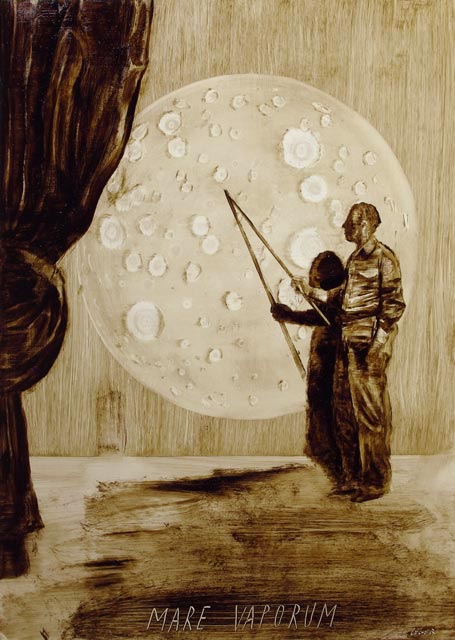 Mare Vaporum • bitume et essence sur papier • 25 x 35 cm (2013)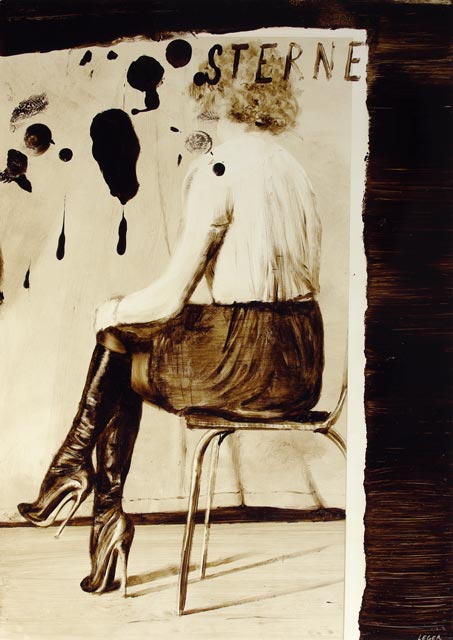 Sterne • bitume et essence sur papier • 25 x 35 cm (2013)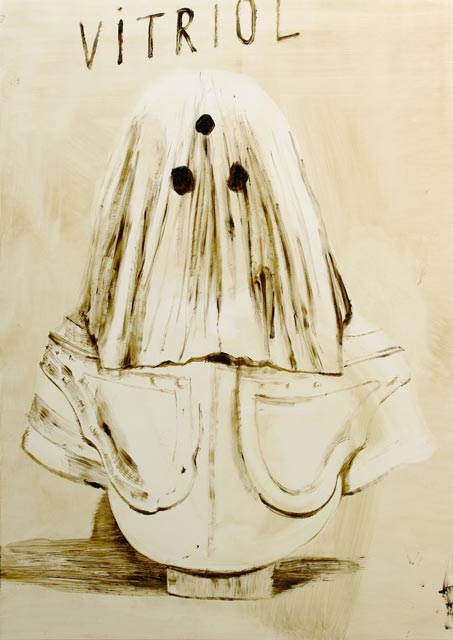 V.I.T.R.I.O.L. • bitume et essence sur papier • 22 x 32 cm (2013)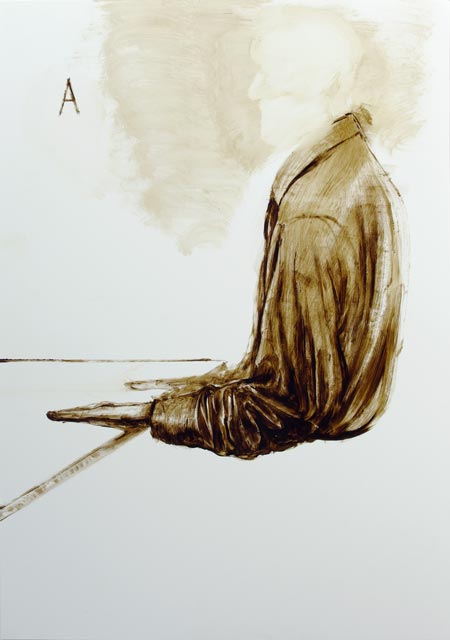 A • bitume et essence sur papier • 25 x 35 cm (2013)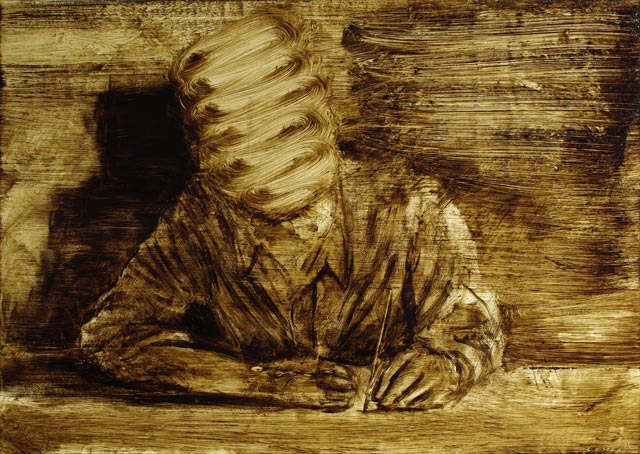 Goya • bitume et essence sur papier • 25 x 35 cm (2013)
Transmission • bitume et essence sur papier • 25 x 35 cm (2013)